A good router table would really come in handy if you need to do delicate wood-shaping projects. Without a router table, it would be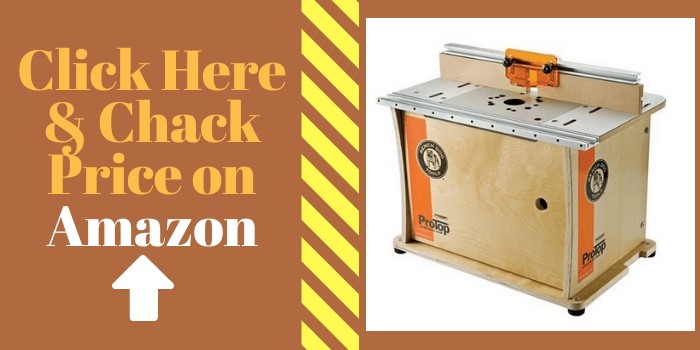 much more difficult and even impossible to precisely shape woodwork and do perfectly straight cuts. If those are the things that you want to do, then we will suggest you take Bench Dog 40-001 ProTop Contractor Benchtop Router Table. Bench Dog 40-001 will most likely fulfil your necessity. Bench Dog 40-001 ProTop Contractor Benchtop Router Table appears to be an excellent countertop router table suitable for a wide variety of woodworking projects. Based on customer review we probably can suppose that it is such kind of a router table which many woodworkers have received with satisfaction.
Is it the best router table that you could get? Or will Bench Dog 40-001 ProTop Contractor Benchtop Router Table is the best one for you based on your necessity?
Well, let's proceed on to our review to find out!
Bench Dog 40-001 ProTop Contractor Router Table Reviewed!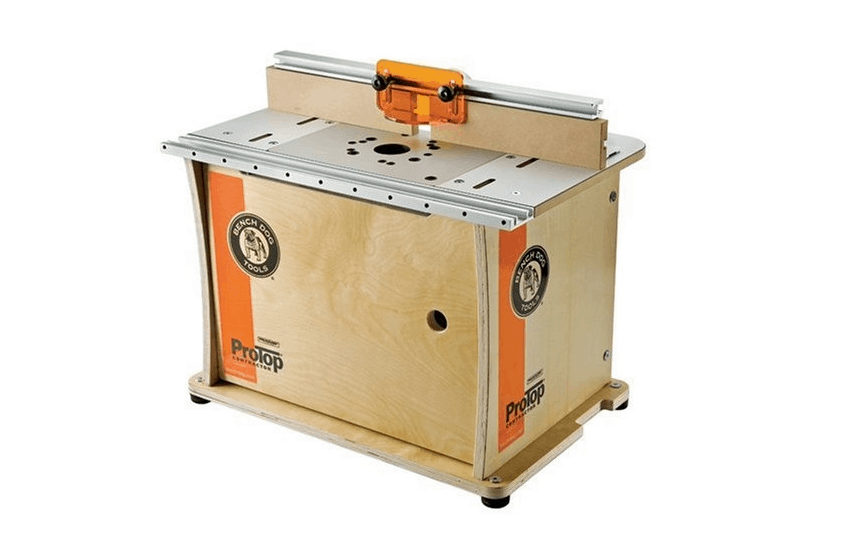 Product Information
Part Number-40-001
Item Weight-43.2 Pounds
Shipping Weight-43.2 Pounds
Package Dimensions-26.8 x 22.8 x 5.1 Inches
Item Model Number-40-001
Color-White
Customer Reviews-3.8/5 Stars
Batteries Included?-No
Batteries Required?-No
Description
Large Tabletop: Bench Dog 40-001 ProTop Contractor router table features a roomy 16 x 22-inch router table with a plastic laminate top. This laminate appears not to tend to absorb water, unlike regular MDF, so it will be safer for use in a variety of working conditions. The large base plate of this router table seems to be made from phenolic resin, which should make it pretty durable. And it is also compatible with a wide range of routers, probably apart from the largest and heaviest ones. The main issue with the base plate is its screws: they tend to loosen over time, as reported by the reviewers of this router table. Moreover, this problem also appears to persist in the other components of the table.
Two-way Facing Fence: You may wonder: what's the point of the pretty large 16 x 22-inch surface, most of which is behind the fence? The tabletop actually features several slots allowing two-way face installation and utilization of the whole table surface. For larger pieces, you could install the fence facing the backside of the table.
The two-way fence of Bench Dog ProTop Contractor router table is equipped with a router bit guard and a T-track for the installation of accessories like feather boards. The track allows you to install and adjust your accessories along the entire length of the fence, which will be useful when working with both very short and long workpieces.
It should be noted though that the tabletop doesn't have any adjustment scales on it. This probably won't play a huge role when using just the fence. However, the adjustment scales would be a necessity when aligning the fence with accessories installed on the miter track.
The backside of the fence right behind the bit guard also features a dust port that is engineered to be connected with conventional vacuum hoses.
Miter Track: Bench Dog ProTop Contractor router table comes with an aluminum T-track for miter gauges and other accessories. As it was with the fence's track, the miter track allows the installation and adjustment of accessories along its whole length.
Unfortunately, the miter track can only be used on the front side of the table. This means that if you install the fence facing the back of the table, you won't be able to use the miter track. Aside from that, the back end of the tabletop appears to be slightly curved, which could create problems with clamp-on accessories.
Cabinet Storage Area: The sturdy hardwood cabinet under the tabletop is possibly the most noteworthy feature of this table router. It is roomy enough to accept the majority of available routers, first of all. Secondly, it could be easily used for storage of your tools. There are a couple of issues with the cabinet to keep in mind though.
Firstly, it doesn't have a dedicated dust collector to catch dust falling down through the base plate opening. The tools stored there would get dusty, so you may probably need to make a baffle to isolate them from above. And besides, you would have to manually vacuum the cabinet, though you could improvise and set up dust collection in the cabinet as well.
And yeah, you would also need to reach in the cabinet to turn the router on and off, unless you also wire a switch for easier power switching.
Rubber Feet: And the last notable feature of the Bench Dog ProTop Contractor table router is its rubber feet. Those feet prevent slippage and also considerably reduce vibration. The amount of vibration would also depend on the sturdiness of the surface you install the table on though. So make sure to have a durable stand or workbench prepared for this router table.
Pros
Sturdy construction.
Works with many routers.
The cabinet has a good storage area.
The entirety of the table's surface can be used.
Has a dust port and a bit guard on the fence.
Comes with a miter track.
The rubber feet reduce vibration.
Cons
The leveling screws of the base plate tend to get loose.
The miter track can be used only on the front side of the table.
Has no adjustment scales for the fence.
The cabinet doesn't have a dust port.
No outside power switch for the router.
Lets Watch a Video Review!

Customer's Frequently Asked Questions & Answers:
Does the base plate have holes to allow raising and lowering the router from above?
It will depend on your router. If the holes of the base plate happen to correspond to the adjustment bolt's position, then you won't have to drill holes yourself. Even if you do need to do that, it shouldn't be that difficult.
Can the infeed and outfeed slots on the fence be adjusted?
Yes, both slots are adjustable.
Does the base plate of this router plate need to be upgraded?
You don't really need to do that since the default base plate appears to be very good. However, you might want to change it if you want to be able to adjust the size of the center hole of the base plate. The default plate doesn't have such capabilities.
Conclusion
As our Bench Dog 40-001 router table review demonstrates, the ProTop Contractor router table is a very good tool indeed. It has some minor downsides that somewhat limit the flexibility of this table. Aside from that, you might also need to do some tweaking and improvising to make this router table absolutely perfect. If that doesn't bother you, then the ProTop Contractor will probably be a great choice for you! If you think you won't feel comfortable with that one then we will suggest you follow our best router table review article which will surely make you find the best router table suitable for you.