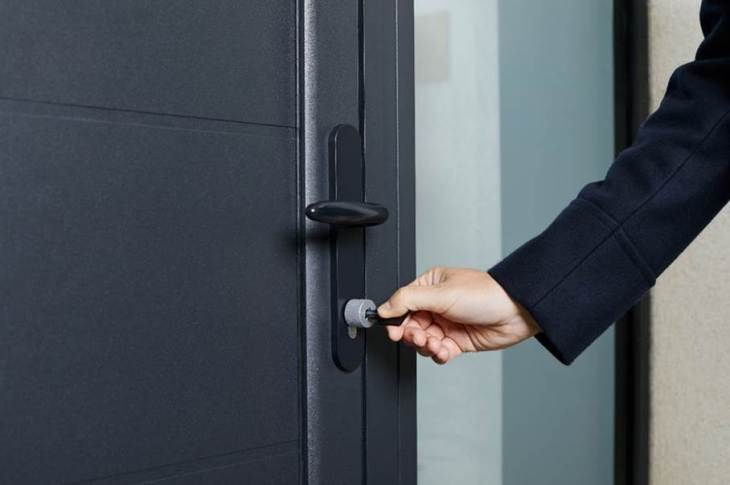 Your home is only as secure as your front door is. Although it would seem that windows are more vulnerable and more attractive entry points for burglars, this isn't actually the case – 34% of burglars enter through the front door, whereas only 23% enter through a first-floor window! So you will have to ensure the maximum security of your front door by choosing the best entry door lock sets.
If you want to secure your home, then it's paramount to ensure that your front door lock is a good one.So, in case you happen to be looking for a front door lock for a more secure home, then our top 5 of the best entry door lock sets may interest you. To get started, we'll have a good look at what features each of the showcased locks offers. Then, we'll even help you pick the right front door lock according to your needs!
Our Top Pick
Berlin ModischFront Door Lever Lock Set

5 Best Entry Door Lock Sets Reviews
1. Berlin Modisch Front Door Lock Handleset
Up first on our roundup of the best entry door lock sets is the Berlin Modisch front door handle set. Although pricey, this gorgeous and highly secure entry door lock set should be a good option for more modern interiors.
The centrepiece of this lockset is the single-cylinder deadbolt that requires a key from the outside but may be retracted without a key from the inside. A no less important component is the adjustable backset latch along with a square corner striker that should ensure secure supplementary locking.
Aside from locks, you are also getting an exterior handle with an attractive brushed nickel finish, as well as an interior lever. For added flexibility, the interior handle can be reversed to be fit to either left- or right-hand side doors.
Be mindful that this lock set is designed for doors that are between 1-3/8 inches and 1-3/4 inches thick. Aside from that, since you are getting a lot of stuff with this set, you'll have to dedicate more door surface to it.
Pros:
Gorgeous looks.
Reversible for left- and right-hand installation.
Adjustable latch.
Comes with 2 keys.
Cons:
Pretty pricey.
Requires a lot of room on your front door.
2. Berlin ModischFront Door Lever Lock Set
This lever lock set by Berlin Modisch is a minimalistic alternative to the handle set we've just overviewed. It sure isn't as fancy, but it's cheaper and doesn't attract as much attention.
At the core, you are getting essentially the same mechanism. This Berlin Modisch set again comes with a single-cylinder deadlock and an adjustable latch& square corner strike. However, instead of the large outdoor handle, you are getting a more traditional lever handle.
The lever handles in this lock set can again be reversed for right- and left-side placement. What's also notable is that you are getting 4 keys rather than 2.
One thing to keep in mind with this lock is that it can be difficult to install and align. The other Berlin Modisch lock set seems to be a little more intuitive in this regard, so you may need to hire a professional to do the installation for you.
Pros:
Low-profile design.
Adjustable latch.
Reversible handles.
4 keys included.
Cons:
Hard to line up and install.
3. Grip Tight Tools ED03C-3 3-Piece Entry Lock Set
For a cheap lock option, the ED03C-3 entry lock set may be a worthy product. It's probably not the best option if you need maximum security, but they should suffice if your neighbourhood is on the safer side.
This lock set comes with entry locks, each with a single-cylinder deadlock and adjustable latch. You are getting 6 keys for each of the locks. What you may also like about the keys is that they all are keyed alike, so you essentially have 18 spare keys.
And aside from that, the cylinders in this lock set are all re-keyable, so you don't need to address a locksmith if you decide to change your keys.
The knob design, although not necessarily an advantage in security terms, maybe a welcome feature for some buyers as well.
Pros:
Traditional knob design.
3 entry locks.
Comes with 6 keys per lock, all keyed alike.
Adjustable latch.
Rekeyable cylinders.
Cons:
4. Home Improvement Direct 4-Piece Entry Door Lock Set
This entry door lock set is very similar to the Grip Tight Tools set, but it's a little bit different.
First off, you are getting 4 locks, again with identically keyed keys. Although this set will cost you more, it will be a better option if you want to secure more doors or just want to have spare locks.
Secondly, the locks in this set seem not to be re-keyable, which may or may not matter to some people. No matter your current requirements, if you ever need to rekey this lock set, you'll probably have to address a locksmith.
What you won't have to pay a locksmith for is cloning keys – this lock set comes with a bunch of identically keyed locks out of the box.
Design-wise, this and the Grip Tight Tools set seem to be very similar. However, this lock set might be a little more durable – it has an ANSI Grade 3 rating, which implies that this lock has decent security for a home lock.
Pros:
Traditional knob design.
4 locks included.
Reversible design.
Adjustable latch.
Alike keys included.
5. Dynasty Hardware CP-HER-US15 3-Pack Front Door Lock Set
And the final option on our roundup of the best entry door lock sets is this 3-piece set by Dynasty Hardware. If you want a non-knob door lock set, then this may be a good pick.
Quality-wise, this set seems to be better than the previous two. It's priced a little higher, but it appears to overall be a higher-quality product. It certainly isn't the most secure lock in the world, but it should be solid for the money.
Feature-wise, we wouldn't say that this keyset offers something outstanding. It has familiar things – reversible handles, adjustable latches, and a set of keys keyed alike.
However, what you may like about this set is that it can be keyed to match Schlage locks. If you have such locks and want this set to match them, then it might be a good pick. But it doesn't seem that the Dynasty Hardware lock set is re-keyable, so you'll have to address a locksmith to change the keys.
Pros
Solid quality for the price.
Comes with 3 locks.
Adjustable latch.
Reversible handles.
Keyed alike.
Things To Look For In The Best Entry Door Lock Set
Now that we are done with our top 5 of the best entry door lock sets, we should talk about how to pick the right set for your front door. Although any front door lock will do keep your door locked, if you are looking for security, there are many things to consider.
Front Door Lock Sets Types
There are several common types of front door lock sets:
Handleset: Handlesets(like the first Berlin Modisch lock set) have an elegant design and thus pair very well with decorative front doors. Security-wise, handle sets tend to be great, though this depends on the set.
Lever locks: Lever lock sets have levers instead of handles. In some cases, levers can be more convenient – for example, when burdened with bags of groceries, lever locks are the easiest to open.
Door knobs: Doorknob locks tend to be relatively inexpensive, but good models can provide serious security. They also look pretty minimalistic and can fit various interiors.
Electronic locks: Electronic locks are very convenient since you can open them via a smartphone app without having to reach for your keys. Besides, if an electronic lock has smart functionality, you can integrate it with your home's smart security system. With that said, since electronic locks are often connected to the internet, they can be vulnerable to online attacks.
Which one to go for? It mostly depends on your aesthetic and convenience needs. In terms of security, we can't say that one type of lock is clearly superior to the other.
Deadbolt
A deadbolt is a must-have for any front door lock. Many people confuse spring-loaded latches with deadbolts and get the wrong kind of lock.
Both deadbolts and latches are pieces of metal that extend into the doorframe and hold the door closed. However, the deadbolt can be locked and unlocked only with a key, while spring latches, depending on design, lock automatically.
The disadvantage of latches is that they are easy to pick, whereas deadbolts have mechanisms that prevent the bolt from moving without a key.
Although front door locks nowadays generally come both with deadbolts and spring latches, don't confuse one with the other and get a lock set that has a deadbolt.
Single-Cylinder vs Double-Cylinder Deadbolts
We should also make a distinction between single- and double-cylinder deadbolts.
Single-cylinder deadbolts have a keyhole from the outside and a lever or latch from the inside. The interior latch allows you to lock or unlock the door without a key.
On the other hand, double-cylinder deadbolts need a key both from the inside and outside. With that said, they are more secure – even if intruders break the door glass and reach the interior side of the lock, they won't be able to open it without a key.
But do keep in mind that in an emergency, double-cylinder deadbolts are less safe since they can prevent you from easily escaping your home.
Lock Grade
Front door locks are graded by the American National Standards Institute (ANSI). There are 3 basic lock grades, with Grade 1 being the most secure and Grade 3 being the least secure.
Among the things that the ANSI rating takes into account are:
The durability of the lock.
The mechanics of the lock.
Overall lock security.
Material quality.
All-around, the best choice for a front door is a Grade 2 lock. This is the kind of lock that is installed in most households. Grade 1 locks are considered commercial and are probably overkill for many people, but you may go for such a lock if you feel that you need extra security.
Grade 3 locks meet basic security requirements, but depending on your neighbourhood, these may not be the best choice. A Grade 3 lock could be a good option as a temporary lock, but for best results, look for a Grade 2 lock.
Drill Resistance
Front door locks are very vulnerable to drills, and you need to have a very strong metal lock to prevent drill wielders from breaking into your home.
Drill resistance alone isn't the only thing to keep in mind. More secure locks actually cannot be easily broken open even if the knob or lever is removed. So get a lock that is either drill-resistant or has good protection inside to prevent unlocking even if the lock housing is damaged.
Re-keyability
Some locks can be rekeyed DIY without addressing a locksmith. Such locks often come with special tools to aid you with rekeying.
DIY rekeying perhaps won't be necessary for everybody. However, if you want to rekey the lock after installation, then getting a lock that can easily be rekeyed can save you some money.
FAQ
Can you purchase sets of locks that are keyed alike?
If a lock set comes with more than one lock, then they will probably be keyed alike. If you already have a lock and want to get a new one that's keyed alike, then the seller may accept key codes to manufacture custom locks. But not every seller will offer such a service.
How to know if my door is left- or right-handed?
Face the front door from the outside. Whichever side the lock is on will be the answer.
Can you install a new door lock in an existing lock hole?
Depends on the dimensions of the lock. If you buy a lock and it's too small for the existing hole, then you can, for example, place pieces of wood in the hole to make it smaller.
Final Words
That's it for our review of the best entry door lock sets! Hopefully, you've got an idea of what to expect and what to look for in a front door lock. Make an effort to buy the best lock you can for your budget – as mentioned at the beginning of this post, front doors are the most common entryway for burglars. So make sure to take good care of your front door by giving it a good lock!
Don't forget to share if you find our stuff valuable. Home & Tools is here just to make you feel about your home. Remain with us!