Looking for a fairly inexpensive router table? Then our Bosch router table review will probably be of great interest to you! In our review, we are going to examine the Bosch RA1181 router table, an instrument that appears to have good functionality for an attractive price.
Bosch makes top-quality tools, and their RA1181 router table seems to be no exception. It is highly rated across the internet by its users, many of whom found this thing excellent. But will Bosch RA1181 be an excellent router table for your needs?
Let's find that out!
Bosch Router Table Review: RA1181 Benchtop Router Table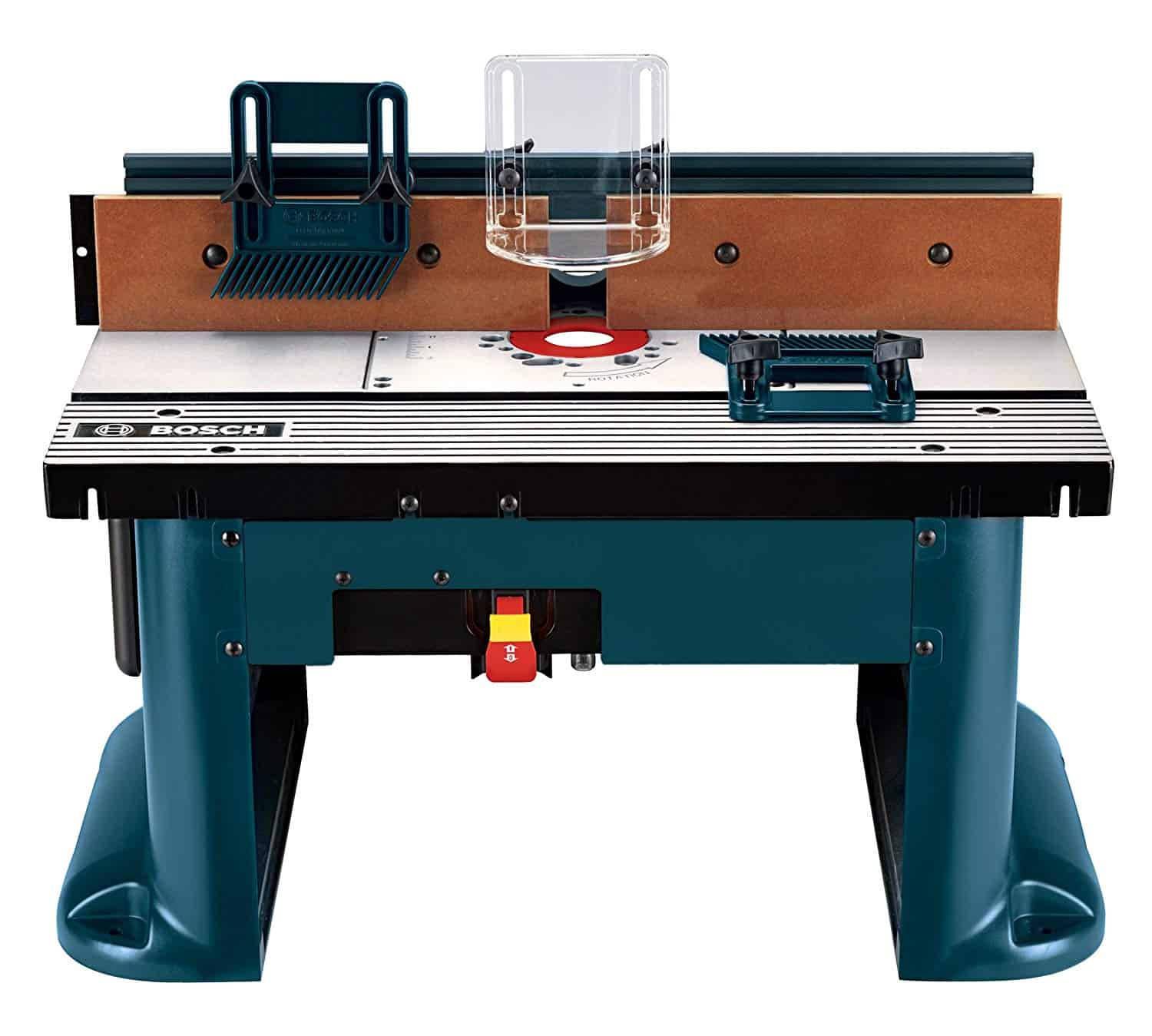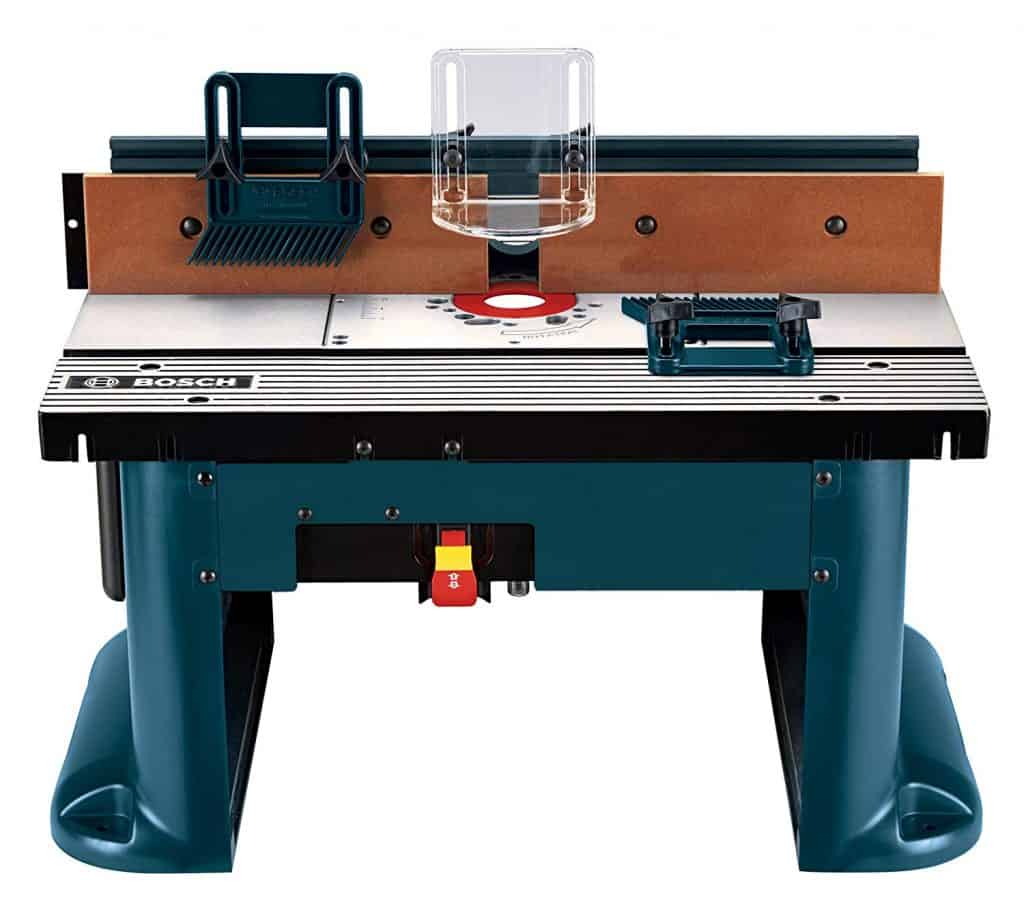 Product Information
Item Model Number-RA1181
Item Weight-33.9 Pounds
Shipping Weight-33.9 Pounds
Product Dimensions-22.8 x 18 x 14.5 Inches
Style-Benchtop Router Table
Finish-Clear Coated Aluminum Top
Material-Aluminum
Customer Reviews-4.2/5 Star
Power Source-Corded Electric
Special Features-Variable Speed
Included Components-(1) RA1181 Benchtop Router Table
Batteries Included?-No
Batteries Required?-No
Warranty Description-30 Day Money Back Guarantee, 1 Year Limited Warranty, 1 Year Service Protection Plan
Bosch Router Table (RA1181) Manufacturer Features
Large working surface
Bosch RA1181 features a quite large 27 x 18-inch (W x D) work surface. In fact, that whole surface is made from aluminum, including the router base plate. The base plate comes with predrilled holes that are designed to be compatible with a large number of routers. RA1181 probably won't be able to work with the largest routers though. And aside from that, you may need to drill some holes yourself to get your router working with this table.
This router table also has a miter slot in front of the base plate. This slot isn't a T-track though. Instead, it has several ports to install your attachments in. Such a design is generally less versatile and flexible than that of T-tracks.
The choice of aluminum should make the working surface more than enough durable. However, it appears that the working surface, especially the base plate, is somewhat rough and unfinished out of the box. You may need to do some sanding to make the working surface level for unobstructed sliding of the workpiece. Fortunately, this issue appears not to be very persistent in the RA1181 router table, so you may not need to do any smoothening to get this thing working.
Countertop design
In spite of having quite a roomy working surface, the table itself isn't that large. It is only 14-1/2 inches high. On one hand, it will be easier to store and transport. And on the other, you will need to put it on a stand or on a workbench to start your projects.
The legs of this table are made from plastic, but they appear to be sturdy enough to support the table and not allow too much vibration. However, the plastic probably won't be as supportive and strong as hardwood or metal, so you may want to be careful while working on RA1181.
Adjustable fence
The fence of the RA1181 measures 4-7/8 x 25-1/8 (H x L) inches. It features MDF faceplates that can be adjusted both inward and outward. The fence is equipped with a bit guard above the bit opening, as well as a dust port in the back that works with standard 2-1/2-inch vacuum hoses.
The router base plate has an adjustment scale on it to allow for accurate positioning of the fence.It seems that adjusting the fence is uneasy nonetheless since it tends to get stuck in the ports, which could be very annoying.
The fence features a T-track that allows flexible installation and adjustment of the accessories. In terms of versatility, the fence's track is certainly much better than the work surface's accessory slot.
Router power switch and dual power outlet
Some router tables make you reach under the table to switch the router on and off. Fortunately, you don't have to do that with this router table since it comes with a lockable power switch on the front.
RA1181 also has a dual power outlet on the back with a long power cord. This power outlet operates on 15 amps and also has overload protection. While not everyone may need an inbuilt power outlet, it can certainly help you with your power cord management.
Accessories
Bosch includes a number of accessories with their RA1181 router table. First of all, you get 2 adjustable featherboards with this table that can be installed both on the fence's T-track and in the table's accessory slots.
RA1181 also comes with three mounting plate insert rings to allow the adjustment of the bit opening size.
Lastly, Bosch includes their starter pin and an additional bit guard engineered to provide support while working with curved pieces. These could be very useful since you would probably need to remove the fence to handle with curved pieces. You won't be able to use the dust port though as it is installed on the fence.
Pros & cons
Pros:
Fairly inexpensive.
Adjustment scale for the fence.
Large aluminum work surface.
Comes with two adjustable featherboards and 3 insert rings.
Equipped with a dust port and a bit shield.
On/off safety switch and dual outlet.
Cons:
May need some fine-tuning.
Uneasy fence adjustment.
Customer's Frequently Asked Questions & Answers:
What's the distance between the miter track and the center of the bit?
That distance is 5 inches.
Which routers is this router table compatible with?
Have a look at this list. You could alternatively contact Bosch or the manufacturer of your router to see whether or not it is compatible with the RA1181 router table.
Do I need to drill any holes in the insert base plate?
If you find that the base holes aren't compatible with your router, you could drill new ones yourself. However, keep in mind the size of the router as well. If it is too small or too big to be supported by this router table, drilling holes won't do much for you. You would need to instead look for an appropriate router table.
How do you adjust bit height with this router table?
You could do it from above if the base plate has appropriate holes. Otherwise, you could easily do it by reaching under the table. The second option could be much more convenient since you often have to reach under the table to unlock the router's bit height adjustment anyway.
Conclusion
We hope you got a clear view of bosch RA1181 and enjoyed our bosch router table review. It certainly isn't the most functional and durable router table on the market. You can easily find a good number of more versatile router tables out there. However, what those better router tables don't have is an attractive price. RA1181 appears to be a good deal for the money Bosch asks for! And if you find that this router table is the exact thing you need, then why not go and get it? By the by after this bosch router table review, we suggest you keep a quick look at our another article where we have tried to find out the best router table in 2021 for you!