A router table in your workshop will really improve the quality of your work and develop the attractiveness of your output. At present, a carpenter can not imagine his projects without a router table. Why not? It is such a woodworking tool which provides with extra precision and comfort of doing any woodworking project. There are so many designed router table of different brands are available in today's tools market. But find out the best router table among all of them is not an easy process. Besides they are not cheap at all. So a DIY enthusiastic carpenter can think the solution differently. There we have tried to arrange several DIY router table plans which gonna make you benefited and make you create a router table which best suits to you.
Full Cabinet Body Router Table Plan:
Full cabinet body router table can be a perfect choice for you if you feel disturbed with your different materials spread here and there lacking storage space. This router table is 86 inches high, 82 inches wide and 60 inches in depth. It offers huge storage space. You will get six drawers of 12 inches and four drawers of 17 inches for storing things.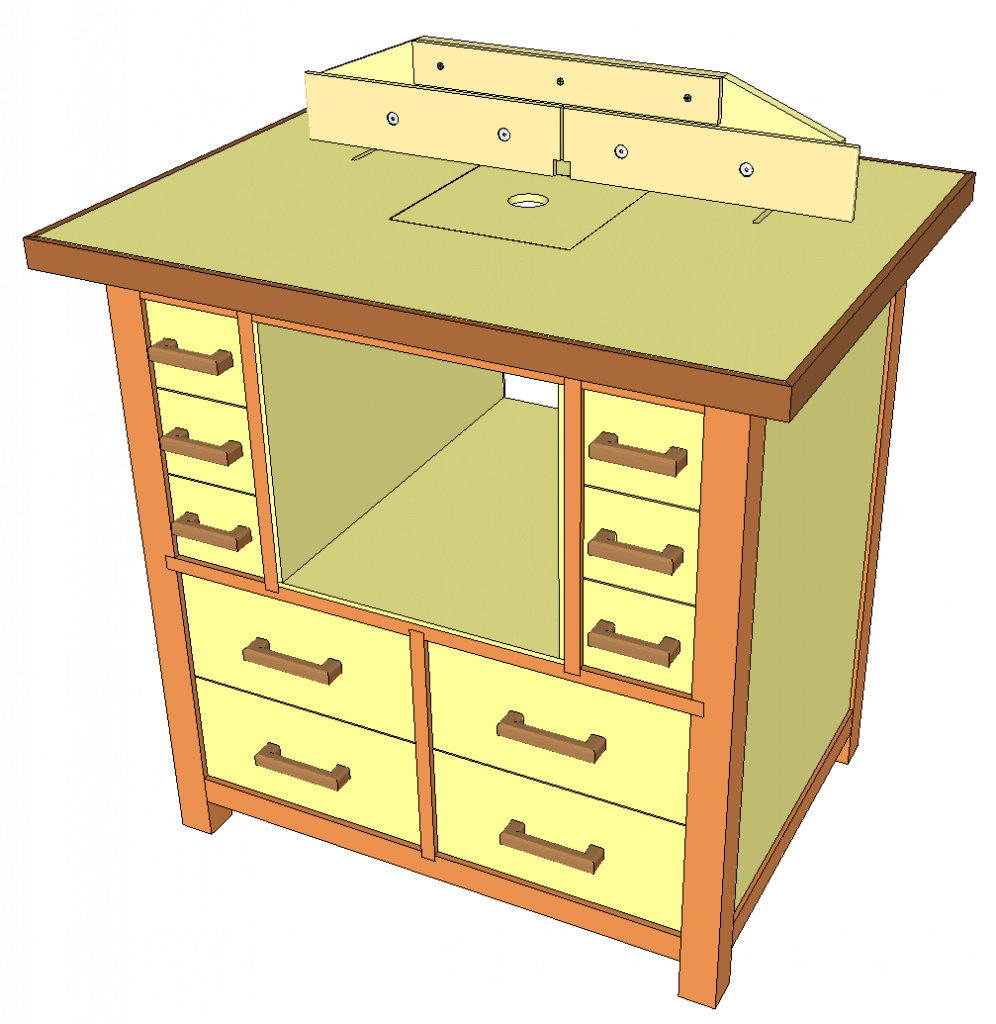 From detailed fence drawings to the exploded view of every part of this router table will be available in this plan. You can pick this plan and easily make your best cabinet body router table which will surely make your work easier than before.
Dan Phalen Ultimate Router Table Plan:
The ultimate router table is a perfect router table plan for a professional woodworker even a beginner will feel so much comfort working on it. The style, the dashing colour combination, the choice of handles and the overall look of this router table are fancy. Dan Phalen has created this plan with love so that any carpenter can easily take this plan and make the beautiful router table. You will get a PDF file of 42 pages where Dan tried his best to make everything simple for you.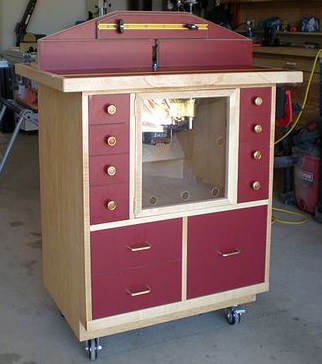 In this ultimate router table plan your router will get a plastic door. There are holes on the transparent plastic door for ventilation facility. You will find bit drawers, a sliding fence and a custom dust port. It is a perfect router table plan and you can take this plan without any doubt.
Bob's DIY Router Table Plan:
Bob's router table plan is so much detailed and you will get a 23 page downloadable PDF file. It is full of measurements and diagrams which will provide you with a clear knowledge for making this one. It is detailer than any other DIY woodworking router table plan. You can make the countertop of this router table with MDF tabletop or any other suitable material. It,s measurement is 22 x 16 inches. It is enough thick and that's why you will be able to handle the job easily.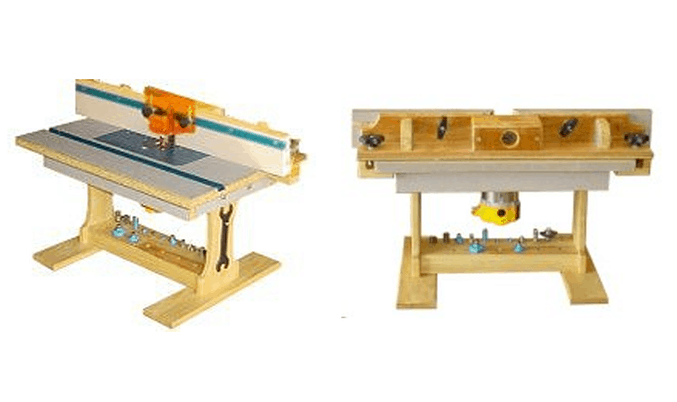 You will need a table saw, a jigsaw a mitre saw and a drill to make the pocket holes in this project which are available to a carpenter. It will be a great choice for you because the budget is not so high. The materials will cost you approximately $80 to $100.
Scott's DIY Elegant Router Table Plan:
Scott Moore is the person who has produced this router table and made a clear guideline for carpenters to follow. He has shown how to make an elegant router table. Scott has used a rockler router tabletop to make this amazing router table. He has used a circular saw, clamps, standard drill, orbital sander, pocket hole jig to make this router table. You will need those tools.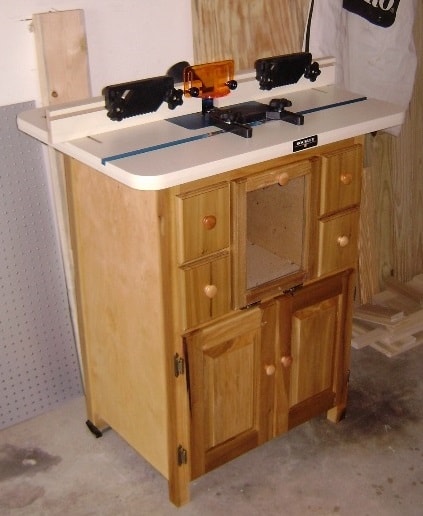 The table is 18 inches deep, 36 inches high and 24 inches wide. The tabletop is not including this dimension. Though Scott has used rockler tabletop, you can build your tabletop for this router table. Poplar boards and plywood of 2×4's and 1×3's have been used in this project. You can do so or apply any better idea. It can be a perfect routing solution for you. You won't find it difficult to make this router table because Scott has tried his best to make a term by tern guideline for you.
Fancy DIY Router Table Plan:
With this plan, you can get a stylish, affordable and colourful fancy woodworking router table. You will be able to decorate your workshop with a stylish look with such kind of beautiful tools. It is also with wheels which will ensure the flexibility of using it at a different place in your workshop.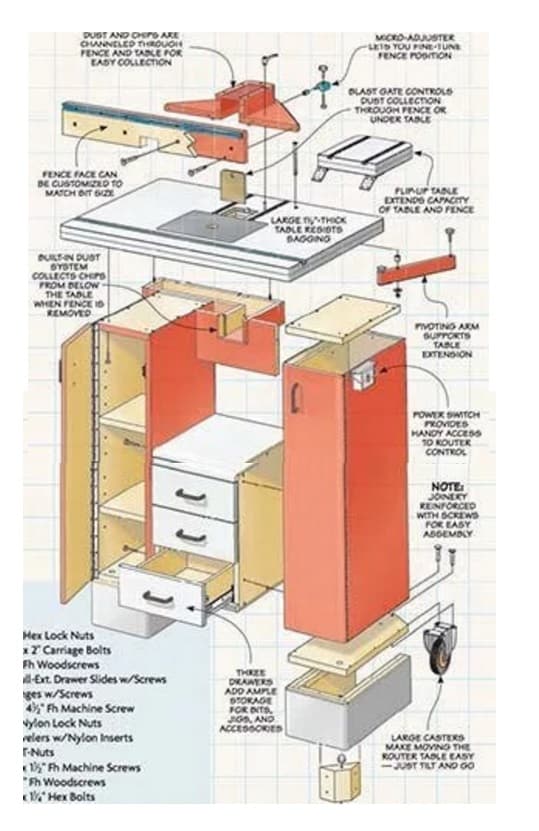 Three drawers and lots of self ensure the maximum storage opportunity for a carpenter. If your workpiece is larger one then you will be able to use the fence and you can fold away the fence when you won't require it especially with a small workpiece. This opportunity has been possible for using a foldable flap to make this router table. You will also get a fancy dust collection system with this one. You can take this plan without any hesitation. An 11 detailed page guideline has covered every aspect of making this router table. A material list, detailed measurement and an exploded view of the entire fancy router table will be cristal and clear to you.
Wall-Mounted DIY Router Table Plan:
A wall-mounted router table is very practical and durable. The paddle switch of this router table ensures maximum safety. The dust collection port of this wall-mounted router table connects to a free-standing vacuum under the table. You will be able to lock up the table.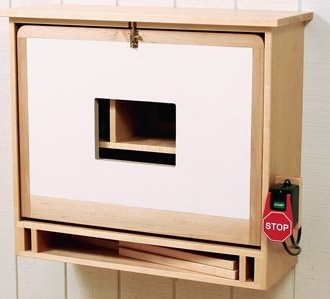 All the things you will need to make this wall-mounted router table are materials, a drill machine, clamps and a wood router. You won't' face any difficulty to create this one because the guide is detailed and elaborated. The creator of it has tried to realize the whole guide in a friendly way. You will also get lots of images of the project.
Deluxe DIY Router Table Plan:
Deluxe router table is the best quality router table. It has all the nice features a carpenter expects. It will be a piece of great shop equipment and woodworker's best supporting tool. It is beautiful, sturdy and durable. It features some drawers which can be used for multi-purposes. Besides, the drawers and shelves will provide enough storage space for you.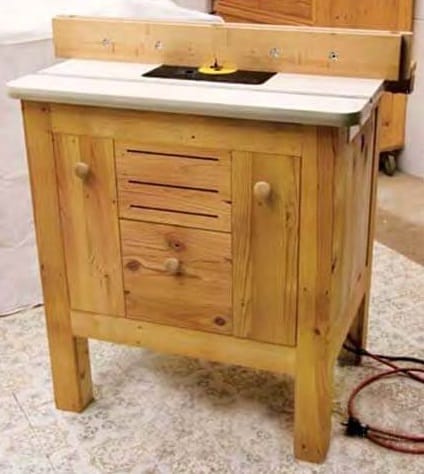 You will get a 27 page long and detailed tutorials for this project. The step by step picture guideline will support you so much to make this router table. You will feel comfortable working on this router table.
Stow-and-Go DIY Router Table Plan:
Ronald Johnson has brought out this amazing idea of making stow-and-go router table. It is a portable router table with great features. You will get all the features whatever you want with this one. When you won't use the router table you will be able to break down and store it if you wish.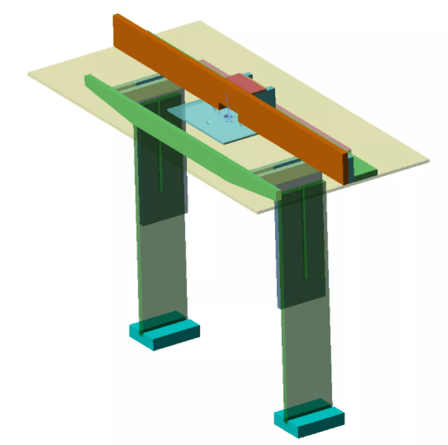 Ronald has made it simple for every carpenter who will try to follow him and make a stow-and-goo router table. He has arranged a video tutorial, colourful photos and written instruction to make you complete this project of making this one. You won't face any difficulty.
It's all. Now it's your turn to pick a plan and create your router table. A carpenter can not imagine without a router table. It not only makes the job easier but also a better output can be generated. Don't forget to share if you find our stuff valuable and helpful.