Remote working has revolutionised the way we work in teams, as an organisation and even individually. It saves you from long commutes, lets your productivity soar through the roof and even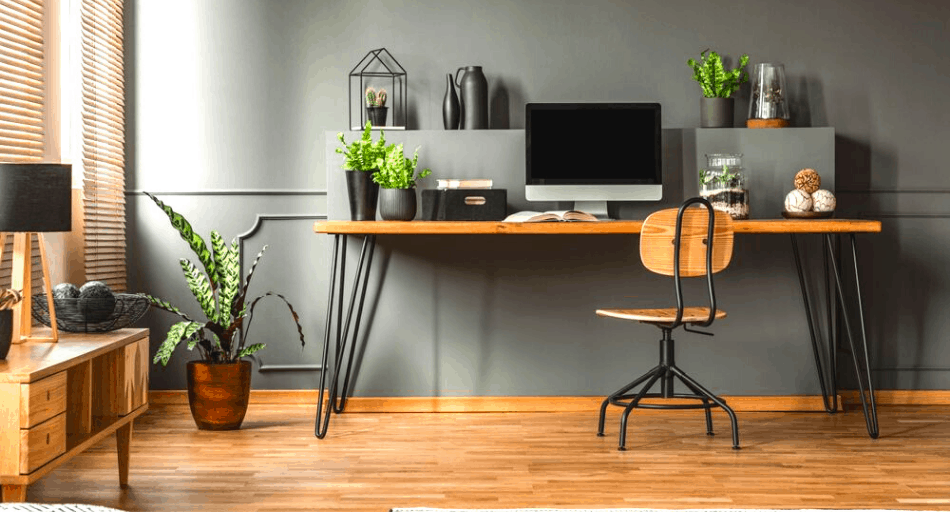 lets you work on side hustles in the time saved. But the key to becoming a productivity wizard while working from home lies in your home office. And that's why, realizing the importance, today we gonna talk about home office setup.
It is very important to set up your home office right in terms of design, aesthetics, colours as well as ergonomics. You want to be able to work productively, there's a need to minimise distractions, adhere to a budget, ensure ample light and network – and once everything else is figured out, you probably also want to add a personal touch to the office. But how do we achieve all this in one home office set-up? Well, here are a few tips to get you started with the home office of your dreams.
Some Tips For Home Office Setup
Invest in a Good Chair
Your office desk and chair are the most obvious components of your home office. Your chair is where you'll end up spending a better part of your workday, so make sure you are seated on a comfortable chair. Here are a few things you should look out for.
The height of the chair should be adjustable.
The chair should have an adjustable backrest for spinal protection. It is called lumbar support.
You should be able to place your feet flat on the floor.
If the chair has an armrest, it should not restrict movement or be too mellow.
The chair is so important and Job Van der Voort, CEO and Co-Founder of Remote.com, considers all other things as secondary in a home office to a good chair.
Define the Space
A research study from the University of Exeter in the UK suggests that when you have control over the design and layout of your own workspace, you are likely to be more productive, healthier and happier. In keeping with these findings, one of the first decisions you should make about your home office relates to the look and design of the office. Personal tastes and preferences will largely influence this decision.
Will you work out of your living room? Do you have an empty closet where you can park your office desk, do you have a vacant storeroom? A hallway? This decision will also depend on the kind of work you do. If your work requires you to record or conduct a lot of video calls, you will need a steady internet connection and good acoustics. So you need to find a nook that fulfils the tangible needs and then design it in a way that makes it work in tandem with your workflow.
For instance, if you will need a collaborative space for brainstorming, you might want to have a room to yourself with a brainstorming spot separate from your work desk. The underlying principle would be using an underutilised part of your house and get creative with your design. Once the basics are decided, you may want to give it a personal touch using personal keepsakes, decor items, extra furniture, among other things.
Ensure Proper Lighting
Adequate lighting is a prerequisite for all offices; your home office is no exception. It is anyway very hard to keep up your productivity and motivation levels high when you are working alone from home, you don't want to aggravate the situation with poor lighting. So find a spot that received plenty of natural light. If possible, install a slider window or a French window in the room.
Talking of lighting, you will obviously need to make sure the artificial lights are at par with natural light too. Take into account the hues and the location of the lights. Warm colours in lights can be calming and probably doze you off, so we'd suggest going to brighter, perkier colours that act as a stimulant for activity and productivity.
Find a Dedicated Nook and Balance It with an Alternative Space
Here's the deal: when you work in an office setting, you may have a dedicated table or cabin to yourself, but you also have common rooms or break rooms where you can go to work or take a break when you are tired.
When you are home, we suggest you try the Pomodoro Technique and schedule regular breaks for yourself. It isn't a wise idea to have a couch in the visible vista, so a stroll around the house should help you rejuvenate. In this vein, we'd also suggest switching your work setting with another setup to break the monotony. The best way to do this is by installing or incorporating a standing desk in your setup.
Usually, having a bar stool with a standing desk in the other corner of the room can help. Of course, longer durations of work at a standing desk can also hurt the foot and back, so we suggest you switch between the two set-ups. Sitting on the same comfortable chair can create other health-related issues, so the moment you start feeling drowsy, head over to the agile set-up of the standing desk.
Declutter and Organise Storage Spaces
A big challenge with home offices – and this is something most people forget to tell you – is that your workspace can easily look cluttered and messy. Home offices are usually tiny spaces in nooks or additional rooms or even closets. It is very easy to lose control over your home office when you are dealing with arduous working hours. The first culprit in this situation is usually the mesh of wires that get tangled together behind your desk while you set up your devices in the front. But don't worry, there's a solution for this: use wire trays under your table. Or create a placement for the wires and accessories beforehand. It'd be even better if you are able to go truly wireless, but it can be costly, so cable organisers will be your best friend!
At the same time, it is a good idea to sort all the rest of your stuff, from stationery to documents and folders in storage cabinets or cupboards or shelves. So get yourself a new storage cabinet or build one that fits the size. Make a filing system and label all boxes.
Keep Your Brainstorming Tools Handy
These would include whiteboard, post-it notes, notepads, planners, pens, pin-boards etc. Sooner or later, you will find yourself trying to figure out how to fit these in your office. These should be a part of your office from day 1, possibly near enough to your workstation but far enough that the creative and administrative tasks in your job can be demarcated.
Do This All on a Budget
The prospect of setting up a functional home office can become a costly affair. But a few hacks can massively bring this cost down. Recycle paper you print or write on – be creative – use them on both sides, use them as coasters, use them to clean. Reuse old boxes for storage. That mug you love but which got broken last year? It can be your new pen holder! Shop at thrift stores and shop in bulk, especially when it comes to stationery items. It may seem ridiculous at first, but you will require pens and pencils and paper forever and hoarding them for cheap is actually a wise idea. Found a promotion or a discount? Get on board!
Get Plants to Give You Company
Green plants will not only go well with your work goals on Instagram, but they will also add a pop of colour and fresh air to your room! Pro-tip: stick to succulents and spider plants; they are easier to maintain. Fight distractions by keeping them away. One of the reasons we want to set up a separate office and not just place a table in the bedroom to work from is the temptation of having the bed around. It will just make you laze around and procrastinate. Same goes for Television sets, recreational devices etc. Our human tendencies may not be able to fight them, but we can keep our safe distance!
Conclusion
How you set up your home office can really set the tone for your professional life. So make sure you have everything you need in one place. Your home office should strike the right balance between hustle and calm!