Introduction:
If you're an avid woodworker or a DIY enthusiast, using a router table, then welcome to this guide on how to change a router bit on a router table!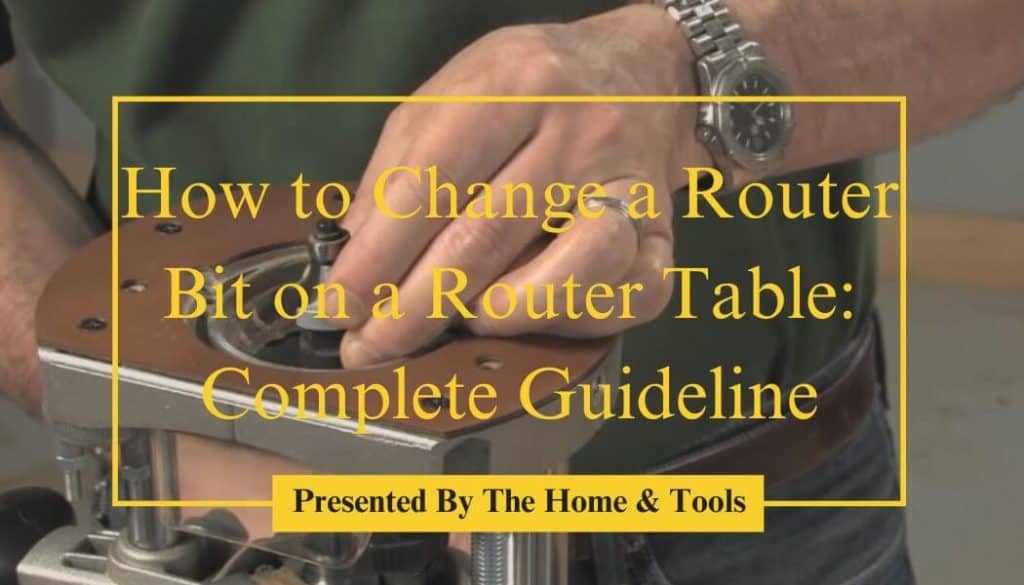 Router tables are versatile tools that enable precise and efficient woodworking by significantly enhancing your projects' precision and versatility.
Knowing how to change a router bit on a router table is a fundamental skill every woodworker should master and it's crucial for achieving the desired results.
In this article, we will guide you through a step-by-step process on how to safely and efficiently change a router bit, ensuring seamless workflow and top-notch woodworking.
Understanding Router Bits
What are Router Bits?
Router bits are cutting tools used with routers to hollow out, shape, or mold materials like wood, plastic, or metal. They have various shapes and sizes, each designed for specific woodworking tasks. Router bits typically have a shank that fits into the router's collet and a cutting edge that protrudes from the base of the router.
Types of Router Bits
There are several types of router bits available, each serving a unique purpose. Some common types include:
Straight Bits: Ideal for straight cuts, dadoes, and grooves.
Rabbeting Bits: Used for creating rabbets or recesses on the edge of a material.
Flush Trim Bits: Perfect for trimming the edge of one material to match the contour of another.
Round Over Bits: Used to create a rounded edge on a material.
Chamfer Bits: Great for beveling and chamfering edges.
Safety Precautions Before Changing Your Router Bit
Unplug the Router
Before attempting to change the router bit, always unplug the router from the power source to avoid accidental activation and potential injury.
Wear Safety Gear
Wear appropriate safety gear, including safety glasses and ear protection, to shield yourself from flying debris and loud noise during the bit-changing process.
Prepare Your Workspace
Ensure you have enough space to work comfortably around the router table. Clear any debris and obstructions, providing a clean and safe environment.
Gathering Necessary Tools
To change a router bit effectively, you'll need a few tools on hand. These include a router wrench, a collet wrench, and a compatible replacement router bit. Ensure that the new router bit matches the shank size of your router.
Step-by-Step Guide to Change the Router Bit
Removing the Current Router Bit
Secure the Router Bit: Turn on the router table and secure the router bit by lowering it into the collet. Then, lock the spindle to prevent any movement.
Loosen the Collet Nut: Use a wrench to loosen the collet nut by turning it counterclockwise. Make sure to hold the spindle lock while doing this to prevent the spindle from rotating.
Remove the Router Bit: Once the collet nut is loose enough, remove the old router bit carefully. Take note of its size and type for future reference.
Selecting the New Router Bit
Matching the Router Bit to the Project: Select a router bit that suits the requirements of your woodworking project. Consider the desired cut and material to find the most appropriate bit for the job.
Clean the Collet and Shaft: Before inserting the new router bit, ensure the collet and shaft are clean and free from debris. Any foreign particles could affect the bit's performance.
Installing the New Router Bit
Now that the old router bit is removed, follow these steps to install the new one:
Insert the New Router Bit: Place the new router bit into the collet, ensuring it goes all the way in. Then, hand-tighten the collet nut to hold the bit securely in place.
Tighten the Collet Nut: To ensure the router bit is firmly fixed, use a wrench to tighten the collet nut clockwise. Again, hold the spindle lock to prevent the spindle from rotating while tightening.
Final Checking Before the Test Run
Ensure Proper Installation: Double-check that the router bit is correctly installed and secured in the collet before powering on the router.
Adjusting the Router Bit Height and Ensuring the Proper Height for your Project: The height of the router bit is crucial for the quality of your woodworking project.
Raise or lower the router bit height according to your project requirements. A higher bit provides deeper cuts, while a lower bit gives more delicate results.
Always test the router bit height on a scrap piece of wood before working on your actual project. This allows you to make any necessary adjustments and avoid mistakes
Securing the Router Bit in Place: Once you've installed the new router bit and adjusted the height (if necessary), it's time to secure the router bit in place.
Tighten the collet nut with the collet wrench, but avoid overtightening. The router bit should be held firmly in place without being too constricted.
Ensuring the bit is held securely and won't come loose during operation. A snug fit will prevent the bit from slipping during use
Testing the Router Bit
After changing the router bit, it's essential to test its performance before starting your project:
Reconnect the Power: Before you start using the router table, plug it back into the power source. Remember to always follow proper safety guidelines when operating power tools.
Secure the Router Bit Guard: Router bit guards are safety features designed to protect you from accidental contact with the spinning bit. Make sure the guard is properly secured before turning on the router.
Adjust Router Settings: Depending on the type of cut and the material, you may need to adjust the router's speed and depth settings. Refer to the router's manual for guidance on adjusting these settings to achieve the desired results.
Run Test Passes: Make a few test passes on a scrap piece of wood to ensure the router bit is functioning correctly. Check for smooth and precise cuts.
Work with Steady Hands: As you begin using the router table with the new bit, maintain a firm grip on the workpiece and move it steadily through the cutter. Avoid rushing the process to ensure smooth and accurate cuts.
Check for Proper Performance: Examine the test cuts for any issues like tear-out, chatter, or unevenness. If there are problems, recheck the router bit installation and settings.
Troubleshooting Common Issues with Router Bits
If you encounter any issues with your router bits, such as chattering, burning, or tear-out, there are several troubleshooting steps you can take. Check the router bit's sharpness, feed rate, and depth of cut to ensure they are appropriate for the wood material and project at hand.
Despite the careful setup, you may encounter some issues while using a router table. Here are common problems and their solutions:
Router Bit Slipping: If the router bit slips during operation, stop immediately and readjust the collet to ensure a tighter grip.
Router Bit Chatter: Chatter or vibration during routing indicates an issue with the router or bit setup. Check for loose components and tighten as needed.
Uneven Cuts: Uneven cuts can result from an improperly adjusted router bit height. Recheck the height settings and make necessary adjustments.
Maintenance Tips for Optimal Performance from Router Bits
To keep your router table and router bits in top condition, follow these maintenance tips:
Keep Router Table Clean: Regularly clean the router table and remove any debris or sawdust that might affect its performance.
Keep Router Bits Clean: Regularly clean your router bits after use to remove built-up debris and resin, which can affect performance.
Maintain Routine Cleaning: It will be best if you perform regular maintenance by cleaning and inspecting both your router table and bits to prolong their lifespan.
Store Router Bits Properly: When not in use, store router bits in a designated case or organizer to protect them from damage and ensure easy access.
Use Quality Bits: Invest in high-quality router bits, as they tend to last longer and provide smoother cuts compared to cheaper alternatives.
Lubrication: Apply lubricant to the router's moving parts to keep it running smoothly and reduce wear and tear.
FAQs
How often should I change the router bit?
The frequency of changing router bits depends on the intensity of your woodworking projects. If you notice a decline in cutting performance or visible wear on the bit, it's time to replace it.
Can I use the same collet for different router bit shank sizes?
No, the collet size should match the router bit shank size precisely. Attempting to use a different-sized collet can lead to unstable and unsafe operations.
Are there router bit sets available for beginners?
Yes, many manufacturers offer router bit sets designed specifically for beginners, providing a versatile range of bits for various woodworking tasks.
Do I need special tools to change the router bit?
Most routers come with a collet wrench that you'll need to change the bits. However, some routers have a spindle lock that allows you to change the bit with just one wrench.
What type of router bit should I use for edge profiling?
For edge profiling, you can use a flush-trim bit, chamfer bit, or round-over bit, depending on the type of edge profile you want to achieve.
Are router bit guards necessary?
Yes, router bit guards are essential safety features. They protect you from accidental contact with the spinning bit and should always be used during routing operations.
How often should I clean my router bits?
Clean your router bits after each use to maintain their cutting efficiency and extend their lifespan.
Can I use the same router bit for different materials?
While some router bits are versatile, it's best to use a bit specifically designed for the material you are working with.
Conclusion
Changing a router bit on a router table might have seemed like a daunting task at first, but by following the step-by-step guide and safety precautions, it becomes a routine and essential skill for any woodworking enthusiast.
Now you have the knowledge and confidence to change router bits whenever your woodworking projects demand it.
By mastering the art of changing router bits, you'll unlock endless creative possibilities for your woodworking endeavors.
Remember to use quality bits, keep them clean, and store them properly to ensure optimal performance and longevity.