What are you thinking? How to use a router table? If it is, then you are in the right place.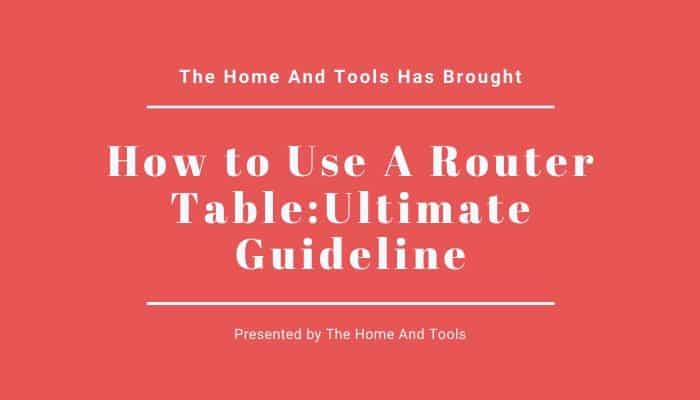 We have made the topic easy and simple. Are you a beginner woodworker and do you have a little bit knowledge about a router table? No matter. This article will make you able to use router tables easily and effectively.
There are some essential tools that a woodworker relies on to make the perfect creations and a wood router is one of them. But a router, on its own, may not be so great when working with certain boards and trying to get the smoothest results or the perfect shapes. For example, you will have to fasten a board to a surface when working with a router alone, but with a router table, you need not worry about that. Also, some workpieces are too small to work with a hand-held router but can easily be attained with the help of a router table. If you wish to cut your moldings and increase the efficiency of your router, you just need a router table and the knowledge of using it.
How to Use A Router Table For beginners!
Now coming to the point, if you are not enough familiar with different kinds of router tables, how do you use one?
Well, let's take a look at the different kinds of them.
Different Kinds of Router Tables
Compact Router Tables
If you take woodwork only as a hobby and do not have much space to spare for your interest in the activity then you can get a compact router table. This table is small and compact in size so you can place it anywhere in a corner and also take it along if you wish to travel with it. They are not ideal for large projects but they are great for quick fixes and crafts work. Some even come in foldable designs.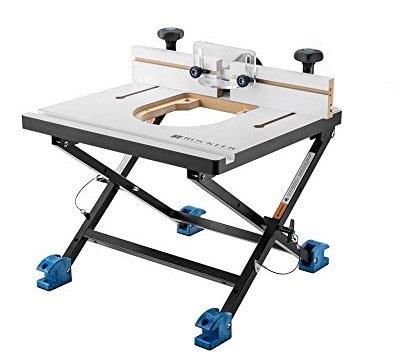 Standard Router Tables
A little bigger and designed for general woodwork, the Standard Router Table is widely used by woodworkers with skills of all levels. You can complete most projects on these kinds of tables as they come equipped with the most required features. You may also find essential viewing our valuable review to find out a standard router table.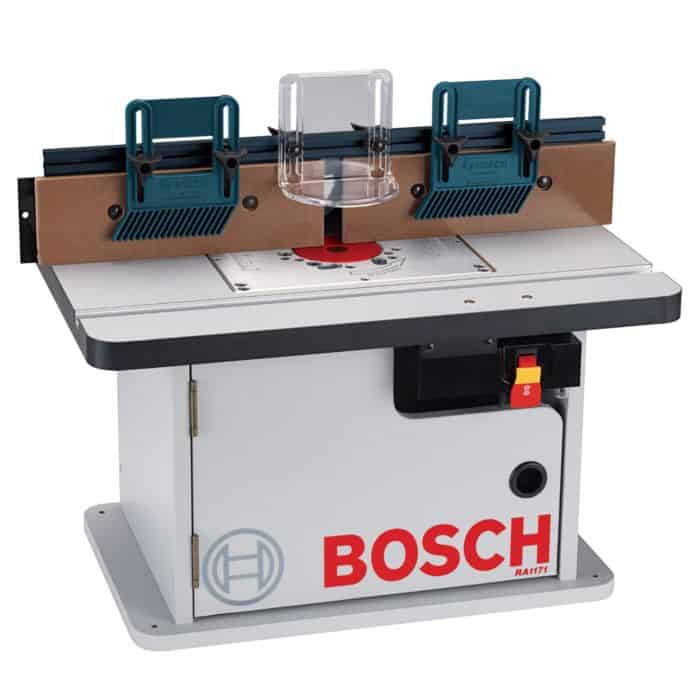 Full Router Table System
This is the preferred kind of router table for the passionate woodworker who likes to take up projects that require some high skills and additional traits. The Full Router Table System is the most advanced kind and offers precision and high-grade results in any challenging project you take on.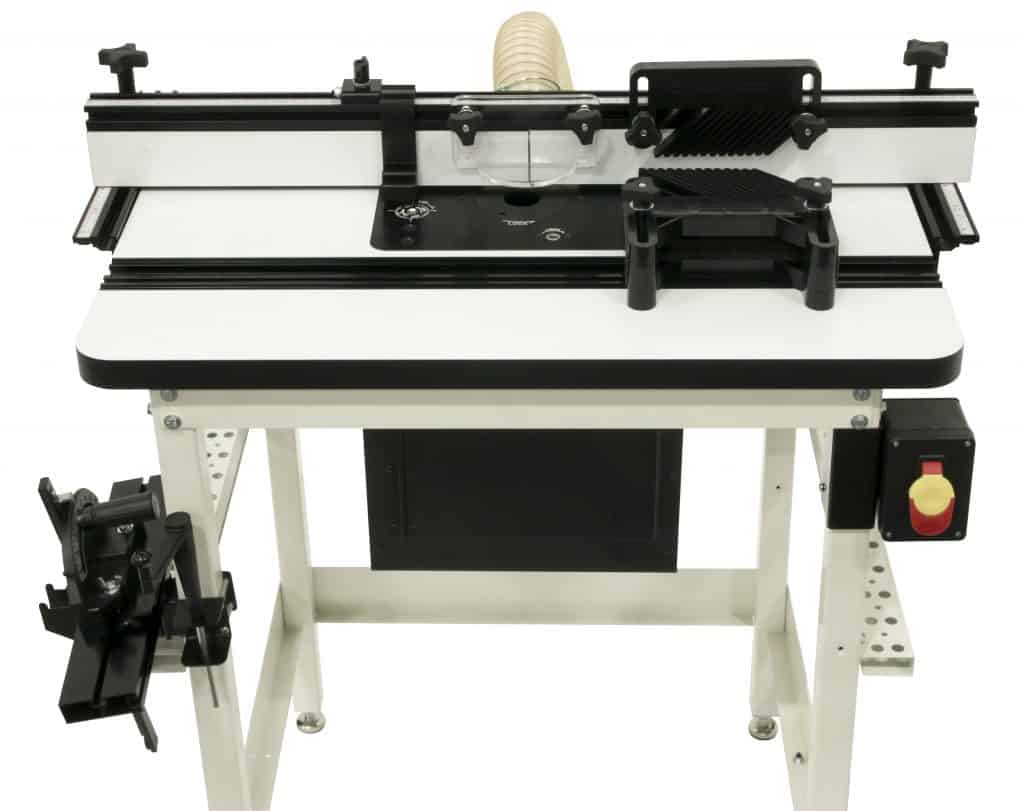 Bench Top
The most portable kind of router table that takes up the minimum workspace, a benchtop model sits on a counter or workbench during use and stored away when the work is done.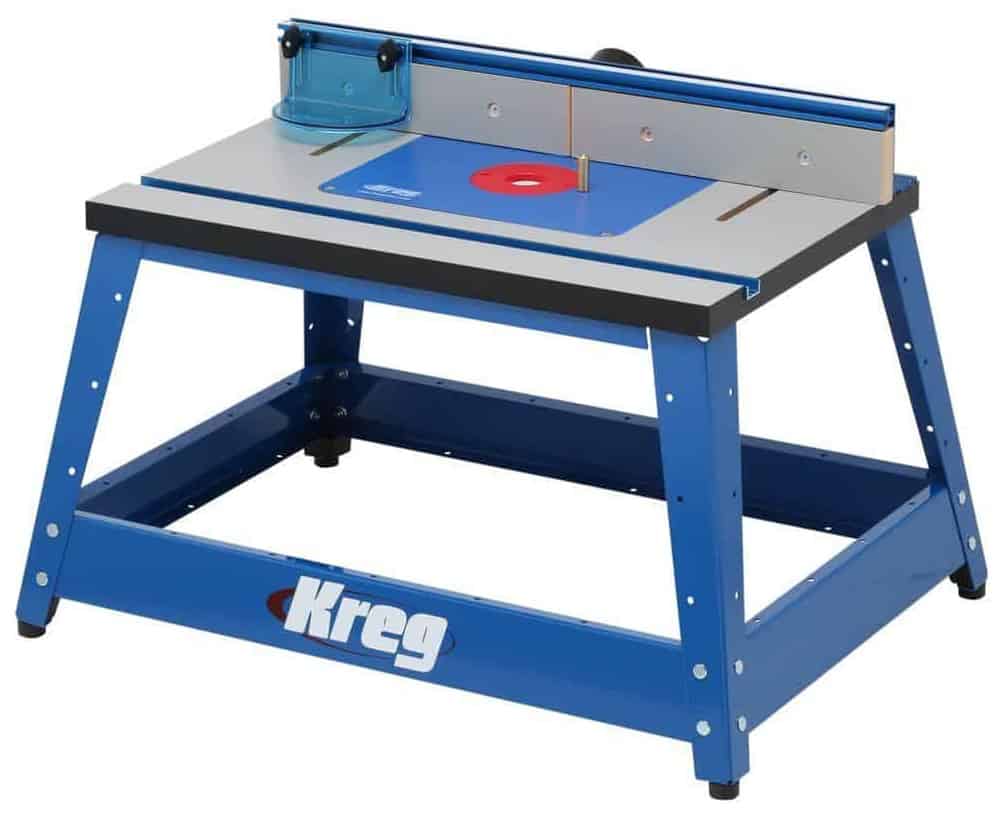 Floor Standing or Cabinet Style
A floor standing or cabinet style router table does not need to be placed on a workbench as the table comes with stand-alone legs or a cabinet to support the work surface of the router table. One advantage of this style of tool is that the user gets extra storage space right below the workstation.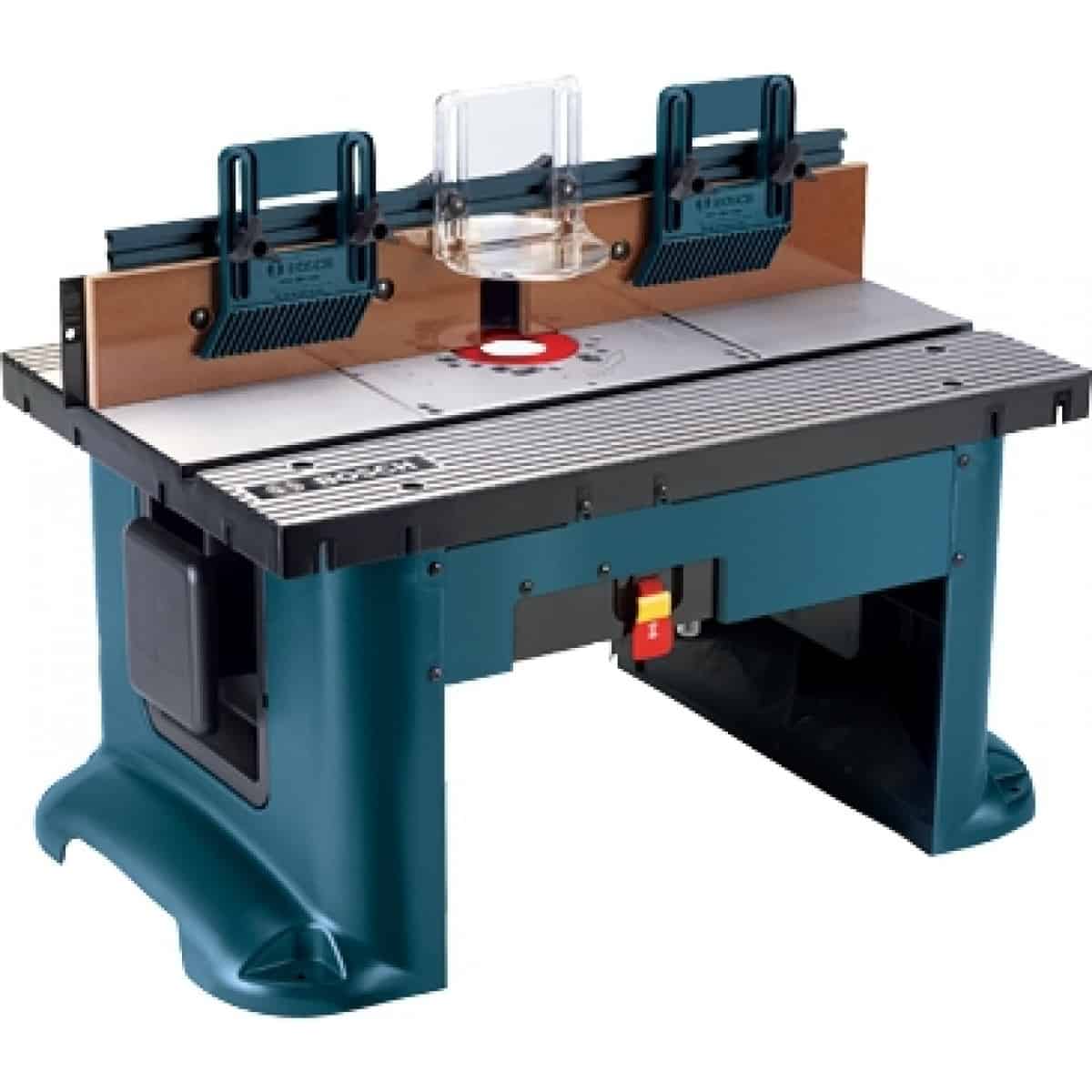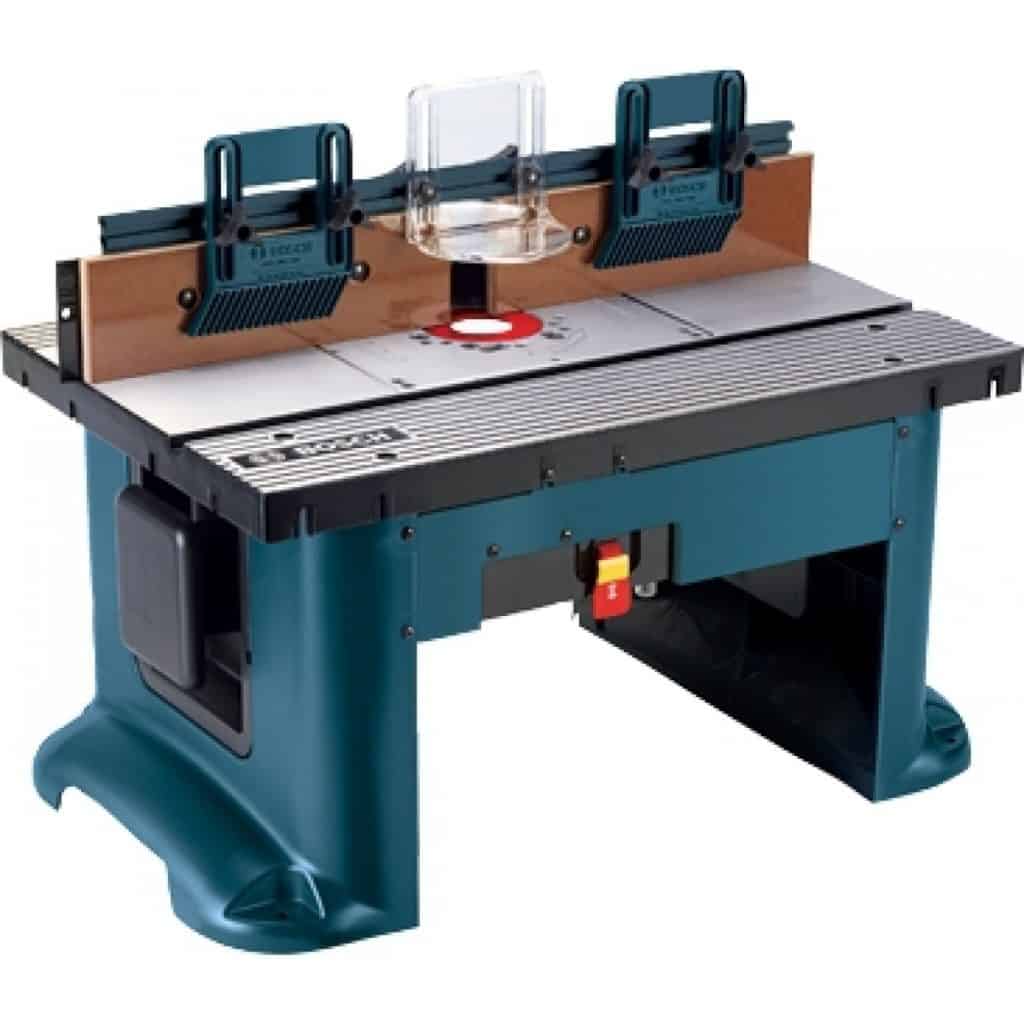 How to Set up a Router Table
Anyone using the router table for the first time may find it to be a scary tool that is equipped with the massive power to cut, shape and trim boards down in swift moves. It is a speedy tool and for that reason, if you do not handle it well or be the one in control then it will not be a surprise to end up with ruined boards or accidental slip offs.
However, by following a few basic steps and the correct setup, you can take charge and get the router to work according to your terms.
Start by Selecting a Bit
As you will need to use a specific bit with your router, you must make sure that it sits perfectly into the collet (bit holder). Common bits include both the ¼ inch and ½ inch shank router bit which will go into the collet and be secured with a nut. Right at the bottom of the shank will be the bit body which will have the cutters that will do all the shaping on your workpieces.
Secure the Bit
You need to make sure that the bit does not wobble or move inside the collet, or else it will not be able to cut through wood properly. Before securing the nut pull back the bit approximately 1/32 of an inch from the collet to allow space for expansion as the swift cutting action causes the machine to heat up quite fast.
After the bit and the router are installed correctly you need moving on to the fence fitting.
Fitting the Fence
You do not have to place the fence exactly parallel to the bit for accuracy in cuts because all that depends mainly on the bit and not on the fence. Be careful with the usage of a mitre gauge together with a fence because that is NOT recommended and can cause damage. If you wish to use a mitre gauge then remove the fence prior to fitting the device.
If you are not familiar with the use of a mitre gauge then be informed that it is a device used for holding pieces of wood that need to be worked on at the desired angle.
Once the fence has been adjusted you must move on to the height of the bit. It must be adjusted to the accurate height as well. A router lift can be used to make the adjustments easier.
Test Your Machine
We recommend always doing a 'test' before running the actual workpiece through your router table so you know if the speed and performance are up to your expectations. It is also a good idea to reduce the speed if your bit is on the larger side.
Workpiece Feeding
When feeding the router table with a workpiece, always push from right to left because the bit always runs in the counter-clockwise direction. It is all about feeding wood in the opposite direction of the spinning blade on the bit.
Once you are comfortable with working on smaller cuts, you can confidently move on to bigger projects but always give yourself time to adjust to the speed and operation of the router table during the first few days.
Appropriate Gear
While you are at it, do not forget to wear goggles and cover your ears so you can concentrate better on your work and also protect yourself from outside noise and flying debris.
In time and with regular use, your router table may need some upgrading and adjustments so keep an eye for any faulty parts or reduced performance.
Let's see a video about setting up a router table and using it!
Router Table Techniques
A router table is a versatile item that most woodworkers like to include in their collection of essential work tools, usually from the beginning of their career or journey of woodworking. You can do so much with a router table than just cut a piece of board. We have compiled a bunch of things which you can master and achieve by owning this amazing product.
Edge Trimming or Pattern Work
One of the most common uses or we can even say the router's main area of expertise is trimming edges to smoothness. If for example, you need to make a certain curve or arch for a door, all you have to do is attach the template with the desired shape to the door's panel and have the router table trim it to the exact same shape. Since you will have both hands free to grip on to the board, you can control the pattern and get the exact results you are looking for. If the same task was being performed with a hand-held router, however, you would have to get the board fastened firmly on a surface while taking extra precaution with the router machine to get the job done. A flush trim router bit, however, does the job much easier.
Stopped Cuts
You can effortlessly get stopped cuts done on a piece of stock for decorative or practical purposes. Stopped cuts are cuts that are visible on parts of stock and do not carry on to cover the full area. For example, a table may have stopped cuts that run along edges or surfaces for the mere cause of beautification or a drawer may need stopped cuts in the joinery technique like half-blind dovetails or finger joints. Because router tables have T-slots, you can accurately and very safely position the cuts for precise results. The task can be achieved by a handheld router or other cutting tools but it will not be as safe, precise or fast as when done using a router table.
Raise Panel Doors
Some tasks just cannot be completed using hand-held tools and making raised panel doors for cabinets is one of them. The process involved in making a raised panel requires big diameter bits which may prove to be risky if done using a hand tool. Grinding all the parts of your workpiece to perfection is also quite impossible with a hand-held router.
Molding Small Stock
If you have used a handheld router before then you are probably aware of how difficult or impossible it is to work on small or narrow stock. Because you have to keep both hands engaged, you will find it hard to keep a grip on the wood pieces and may end up with less than satisfactory results. But a router table allows you to work on any size of the board and with feather boards you get an even better hold against the fence, thus enabling you to have full control and a balanced feed. Even when you have to shape the edge of a door, no matter what size, a router table makes it easier and also files better. The surface of the table supplies you with a sturdy base to place your workpiece while your hands are free to hold on to other parts or accessories.
Joinery Techniques
With the correct kind of bits, you can use your router table to work on various kinds of joinery operations. Some of the useful bits include drawer lock bits, lock mitre bits and finger joint bits. If you want to try something other than a traditional dovetail joint then you could use the drawer lock bit to make box shapes just as well. The lock mitre router bit enables a woodworker to cut a connecting mitre to fit accurately with the joint, improving the quality and locking power of the joint. Finger joints can be achieved by the finger joint bit which is one of the most complex kinds of joinery techniques in woodworking.
Router Table as Jointer
One of the best qualities of a router table is its ability to be used for various reasons and as a multitasking tool. If you often find yourself requiring a jointer then you will be glad to know that by adding a few special bits to your router table you can get the job done with the same efficiency and precision minus the extra cost of buying a jointer. It also works pretty fast so you can get uniform cuts in a very short time by using your router table as a jointer.
Features of a Router Table
If you wish to make great use of your router table or are thinking of purchasing one then you must be familiar with its construction and specifications. Check out what is included in the making of a router table and the functions of every feature.
Table Top
The largest and most used portion of a router table is its top-surface area. A popular material used in the construction of the table-top is MDF, which is fiberboard with medium density. MDF has more density than plywood so it provides more durability and sturdiness to the table.
In terms of price, MDF is the most affordable kind and quite ideal if you are interested in light-duty craft, but if you are ready to spend a little more then you can check out the tables with Phenolic Resin surfaces.
Cast iron tables, however, are the top choice for heavy-duty protects and longevity. They cost more than MDF and Phenolic Resin models but are the most stable and rigid kind.
Besides the material, it is also important that the surface does not wrap overtimes and that it is even and completely flat so that the shapes of your mouldings are not compromised with.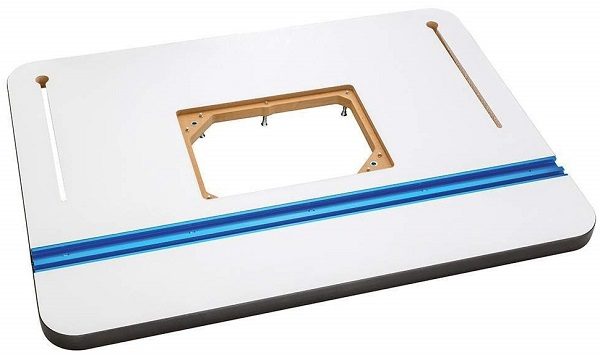 Fence
A fence is what keeps your board pressed during work so an adjustable fence is what you must be in the lookout for if you wish to work with various sizes of workpieces accurately. A fence with adjustable positioning feature will provide you with a wide range of fittings to hold any kind of board thus allowing you to take on any project. But before anything, you must make sure the fence is square, straight and unbendable.
If your router table comes with a split fence and is outfitted with t-tracks that accommodate several different jigs and also sports a micro-adjustable feature that enables the movement of the fence in small increments then you are good to go but expect these models to be a bit pricey.

Base Plate
It is common for a router table to have a plate to which the router is attached. This plate, known as the Base Plate is designed to be fitted into a slot on the top of the table. The flatter the base plate, the better the usage of the router will be.
Base plates are usually made of machined aluminum but solid phenolic aluminum can also be a good option as both materials provide durability and substantiality.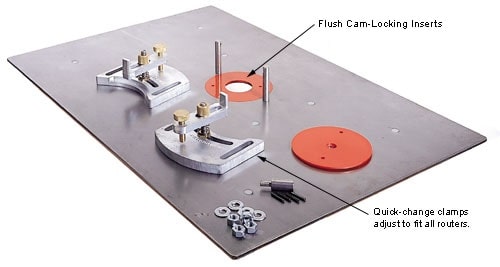 A well-fitted plate must feel rigid and levelled properly. To ensure a perfect fit, router tables can come with a plate-levelling system in which some adjustments can be made to balance and secure the plate accurately.
As the plate is what attaches the router to the table, it must be fully compatible. For the sake of versatility, there are blank plates, pre-drilled plates, and one-size-fits-all plates which give you a lot of options by increasing compatibility between various router tables and routers, but these are not necessarily the most durable kinds. The extra holes may store the debris and also come in the way of operation.
The best model, however, is the one that allows quick and easy attachments and removals.
Router Compatibility
Bear in mind, that all the tables for mounting routers, are not same and they need to be first checked out for compatibility with your router. If you already own a router then do find out if your chosen router table is going to work or not because if the router does not fit well then you will not get good results and usage will also be unsafe.
Miter and T-Slots
These are not always guaranteed on a router table but they are great for increasing productivity.
A mitre slot is useful for times when you need to use a mitre gauge for your work while having T-Slots allow you to place and attach various accessories.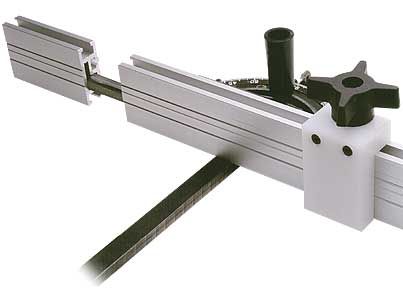 Base
Some router tables come with legs to stand on and some can be mounted on tables or countertops. If you have enough space to keep a router table then a stand-alone larger table makes a great complete set but if you feel that you do not have much space to spare then getting a bench-top router table can help you minimize workspace. On the other hand, there is also what we call a cabinet style router table that comes with a cabinet to keep all your accessories and extra little tools nicely stored and well organized.
Whichever design you choose, the base must be sturdy and very balanced. Using a router involves a lot of force and if the table wobbles then the vibration can cause uneven results as well as pose risks of accidents. To avoid damage and prevent accidents, the table should stand firm and rigid.
Table Height
Router tables may or may not come with height-adjustable options. Adjustable heights are perfect if more than one person is going to be using the table or even when moving the table from one level of the ground to another. This is not an absolute necessity but it is a good feature to have.
Portability
Portability means that you can easily take your router table with you if you have to travel somewhere else to work on something. But in general router tables are not usually moved from their workstation. If you are someone who travels a lot for woodwork and likes to set up your workstation at different places then maybe picking out a table that is not too large or heavy may be the best option for you but despite the lightweight, the table should not be any less rigid or durable. For a better experience, you can see our complete best router table review and pick up your chosen one.
Benefits of Using a Router Table
Perfect Edges
When you involve the use of a router table, the end results of your work will turn out more precise and professional-looking because you will have the help of a sturdy machine tool to combine with your hand skills.
Saves Time
You can complete multiple projects over a short period of time when you work with a router table. It is a fast-paced tool which will help you finish tasks much quicker than when working with just a router. The faster you complete tasks the more time you will have to attend to other business or increase your productivity rate.
Safety
Hand-held routers are not very safe, especially if you do not have much experience or high skills for handling the tool. Beginners will find the use of a router table more stable and comfortable as the workpieces are pressed firmly to the table, giving the woodworker more control over things.
Better Control and Stability
Router tables leave you with both hands-frees to handle other tools and your board better. With both of your hands-free, you can get a better grip over things and also enjoy full control over your projects. You will instantly feel the stability and sturdiness in your work.
Good for Smaller Work Pieces
You cannot attend to smaller boards with a hand-held router but if you own a router table then you will not have to worry about the size of your workpiece because router tables are ideal for them.
Versatility
If you can afford to spend a bit more on a high-end router table then you will love the extra features that come with some really advanced models. The tables are great platforms to work on various different projects and you will be able to expand your work by creativity and quality to a great extent. Even the regular models that are somewhat good quality will have adjustable features which you can position to fit your work accordingly.
Router Table Safety Tips
Router tables are generally safe tools and they are even preferred over hand-held routers for their ability to provide woodworkers with better control and safer work time. But the nature of work involved is not all risk-free and when the proper precautions are not taken, you could end up being harmed or a victim of a serious injury. If you wish to finish off your work safely then keep the following in mind and you do not have much to worry about.
Follow the instructions- no matter how experienced you are with routers be sure to read the manual at least once before you start your work right after set up. Router tables come in different models and each model may have a different set up so you must first be familiarized with your tool before you can get to work.
Wear goggles- Woodcutting and moulding involve a lot of tiny particles flying around as you work on your piece so it is important that you keep your eyes protected. Little scraps of wood may fly into your eyes and cause you to discomfort or even distract you while you are handling dangerous tools.
Wear all protective gears- Just as your eyes need to be protected, you must also cover your ears, nose, and mouth to avoid dust from entering. Inhaling dust may cause breathing problems, especially to people with dust allergies.
Take off all loose items such as accessories and jewellery before you start working because these items could accidentally come off and cause accidents.
Make sure to turn off all running machines and tools when placing or adjusting boards. You may accidentally cut your hand or injure yourself gravely if you don't pay attention.
Wood pieces must always be fed from the right side to the left on a router table.
Check that all attachments are fitted properly. Your boards should be held tight and all extra accessories must be well placed to prevent sudden slip offs.
Work in a well-lit room. Never attend to work in a room that is dark or poorly lit because you need to see what you are doing. Having a poor vision can be risky as you feed your router table with your wood piece with your bare hands and the results may also lack precision and accuracy.
Maintain limits. Not all router tables are meant for heavy-duty work and if fed with more than what it is designed for, it will not only perform poorly but it can break down and get completely damaged.
FAQ
Can I use more than one router on my router table?
Yes, but it depends on the model of your router table. Consider purchasing a router table with an adjustable base plate so you have the option of changing routers. If your router table can accommodate the bigger routers then they can be modified to accommodate the smaller routers too.
How is a cabinet style router table beneficial?
Router tables with fitted cabinets are excellent for organizing tools and keeping all your accessories and small items together in one place. It helps you keep your workplace tidy and also keeps your items safely stored in one place so you do not misplace them and know where to access them quickly.
How can I avoid any damage to my router table?
First and foremost we recommend that you do not place any more pressure than the table can take to avoid any damage to its machine. Router tables have their limits and if your router table comes with any limitations then you must stick to them to ensure that the machine runs long and performs well. In terms of maintenance, you can keep it clean and remove sawdust and other collected debris after each use. Your router bit may require occasional lubricating and the fence may also need regular check-ups for wear and tear.
How much should I spend to purchase a good router table?
The quality of your woodwork will be affected by the performance of your router table so if you want professional results then you must be ready to invest in the well-made models. Expensive router tables can cost you way over $500 but you can still find good ones within an affordable price range. We suggest comparing different models and then selecting the one which best suits your requirements.
If you have any other question, feel free commenting us or contact us.
Conclusion
Router tables are essential to all woodworkers because they enable woodworkers to take on complicated projects and turn them into beautiful creations. If you can run your router table correctly and keep it in the best condition then you can look forward to carrying out all sorts of work with the best results in the end. As a versatile tool, you can use it to complete multiple tasks such as creating slots, edge trimming and even use it as a jointer. With the correct use of your router table, you can improve your work skills and demand for work within a short time.
So, now what? Just enjoy your work and woodworking life! It will be great if you share your experience after reading this article. Won't You?