If you are mostly working on low-volume projects, you don't really need to spend a fortune to get a random orbital sander. In fact, buying an inexpensive orbital sander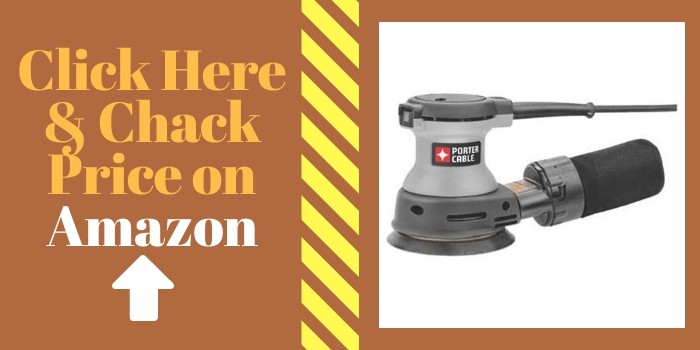 is a pretty reasonable choice, given that you aren't looking for a tool for high-volume projects. Here we have brought Porter Cable 382 Review for you because we believe it will reflect your necessity and easily will be a great choice for such projects. If you are considering to buy that sander, then you most likely would like to have a look at a couple of review posts of Porter Cable Orbital Sander. We made it perfect for you. On our review, we are going to thoroughly examine Porter Cable Orbital Sander to help you understand whether or not it is a good choice for you. Let's begin!
Porter-Cable 382 Review: 5 Inch Random Orbital Sander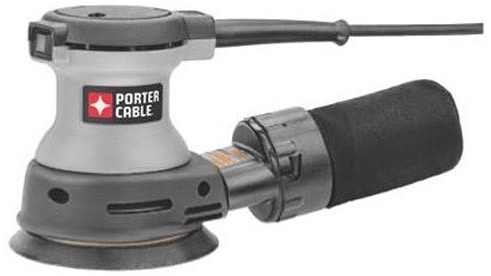 Product Information
Item Model Number-382
Item Weight-3.6 Pounds
Shipping Weight-3.8 Pounds
Product Dimensions-8 x 9 x 7 Inches
Style-Sander
Certification-Certified Frustration-Free
Power Source-Ac/Dc
Customer Reviews-4.1/5 Stars
Included Components-Bare Tool; Attachments
Batteries Included?-No
Batteries Required?-No
Warranty Description-3 Year Limited Warranty, 1 Year Free Service Contract, 90 Day Money Back Guarantee
Description
Porter-Cable 382 5-inch random orbital sander is an amazing one with all lovely features. It has almost all features what a user expect.
Random Orbit Sanding Action: Have you ever encountered swirl marks after using your sander? If so, then your sander probably wasn't a random orbit sander. The main advantage of those sanders is that their sanding head is not only spinning but also slightly moving around in an elliptical trajectory. This, first of all, ensures that the sanding head doesn't go over the same point on the workpiece twice. Aside from that, a random orbit sander works with wood pieces that have considerable differences in the surface texture, which would not only come in handy when working both with single and several pieces of wood.
Porter-Cable Orbital Sander 382 has a 5-inch sanding head that accepts 8-hole 5-inch hook-and-loop sanding papers. Those sanding papers are exceptionally easy to put on and take-off of the sanding head. Porter-Cable Orbital Sander doesn't include any sanding papers with this tool though, so you would have to buy them separately.
High-Speed Motor: Porter Cable Orbital Sander (Model-382 5-Inch) features a 1.9 A motor that delivers 12.000 orbits per minute (OPM). That's a very good speed, on par with the speeds of more expensive orbital sanders. However, this sander only has one sanding speed.
The single operation speed won't be an issue if you want an orbital sander to just even out the surface of the workpiece. However, such a fast speed probably won't be appropriate for smoothening the surface of the wood because you won't have much control over the sander for such fine work.
Another issue with the motor is its lack of power. A 1.9 A motor probably won't be able to do much with coarse sanding papers. Once pressure is applied to the sander, the speed of sanding decreases considerably. It will still do the job but much slower. For individual projects, the difference would be just some several minutes. However, that difference would probably add up considerably with larger projects.
It also seems that the Porter-Cable Orbital Sander (Model-382 5-Inch) tends to heat up noticeably after 10 – 20 minutes of use, which could force you to take pauses during work.
Ergonomic Design: In terms of convenience, Porter Cable Orbital Sander (Model-382 5-Inch) is a pretty good sander. It features a quite thin neck that allows for better handling. Aside from that, it is fairly easy to operate this sander while holding it from the top.
This random orbit sander also has a dual-plane counter-balanced fan designed to reduce user fatigue and vibration. Paired with the ergonomic shape of the sander, this should make for a pretty convenient tool.
The main issue with the ergonomics of this sander is its power cord. The mere fact that it is there will somewhat limit your maneuverability during work. Besides, you won't be able to use this sander everywhere since it requires electricity.
Dust Collector: Porter Cable Orbital Sander (Model-382 5-Inch) comes with a dust collector bag. The dust is sucked into the tool while sanding and is sent to the included dust bag. If you prefer to work with dust extraction vacuums, then you could connect one to the dust port of this sander. Keep in mind that you may need adapters to do that. The dust collector has one noteworthy downside. It appears that the collector isn't secured in place by anything, which results in it falling off quite frequently. This could be very annoying, so you would need to make sure that you keep your arms and the power cord away from the dust collector while working.
Pros
A good choice for single sanding projects.
High sanding speed.
Ergonomic shape.
Cons
Tends to heat up.
The dust collector isn't held in place securely.
Small, inconvenient power button.
Lacks power.
Has only one speed.
Lets Watch a Video Review!

Customer's Frequently Asked Questions & Answers:
Where do I get sanding discs for this sander?
The first option would be to buy them from Porter-Cable's website. Aside from that, you could get sanding discs at your local store, for example. Online retailers like Amazon could also have sanding discs. Just make sure that the discs you are getting are compatible with this sander.
Can this tool be used for polishing automobiles?
Probably not since its speed may be too high for polishing. This sander will most likely just peel the paint off of the car. Look for a buffer instead.
Can the dust port's orientation be changed?
It appears that the skirt of this sander isn't rotatable, which means that you can't change the orientation of the dust port.
Can stick-on sanding discs be used with this tool?
No, Porter Cable Orbital Sander (Model-382 5-Inch) is designed to work with hook-and-loop sanding discs.
What current does this sander operate on?
This random orbital sander operates on 120V.
Conclusion
What kind of applications would Porter Cable Orbital Sander (Model-382 5-Inch) be suitable for? Well, taking its features and downsides into account, we would say that it is an appropriate choice for an individual, simple projects. We think that it most likely won't be a suitable tool for high-volume applications, especially if you want to get a sander for business use. The invariable speed, heating up, and the weak motor probably won't allow you to do much.
However, the Porter-Cable 382 5-inch random orbital sander would be a good choice for home projects that don't require much precision. Aside from that, it could be used in single workshop projects that don't require the functionality of more expensive sanders. Pretty much anyone could be using the Porter Cable Orbital Sander effectively unless their projects have high volume and require precision.
Still Confusion? No matter, you can see our 10 best random orbital sander review to make a proper decision. It will really help you to pick the best one. Never hesitate to ask any question. We always try answering.